A true art of living
Why an eco-friendly guesthouse with organic and vegetarian menus?
By conviction since a first awareness in the 80s, to try to preserve what remains beautiful on the planet. Aware that the world does not necessarily move in the right direction, we do not want to accept everything from this system. At our level, we want our footprint to be minimal.
We only use detergents, detergents and biodegradable shower gels, without dyes, certified "Cosmebio" and / or "Ecocert". Our soaps are homemade, in a traditional way, with organic oils and organic essential oils.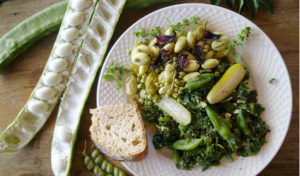 We made the choice to eat only organic to give ourselves a maximum of chances to stay healthy while preserving our planet. With us, everything is organic, except rum!